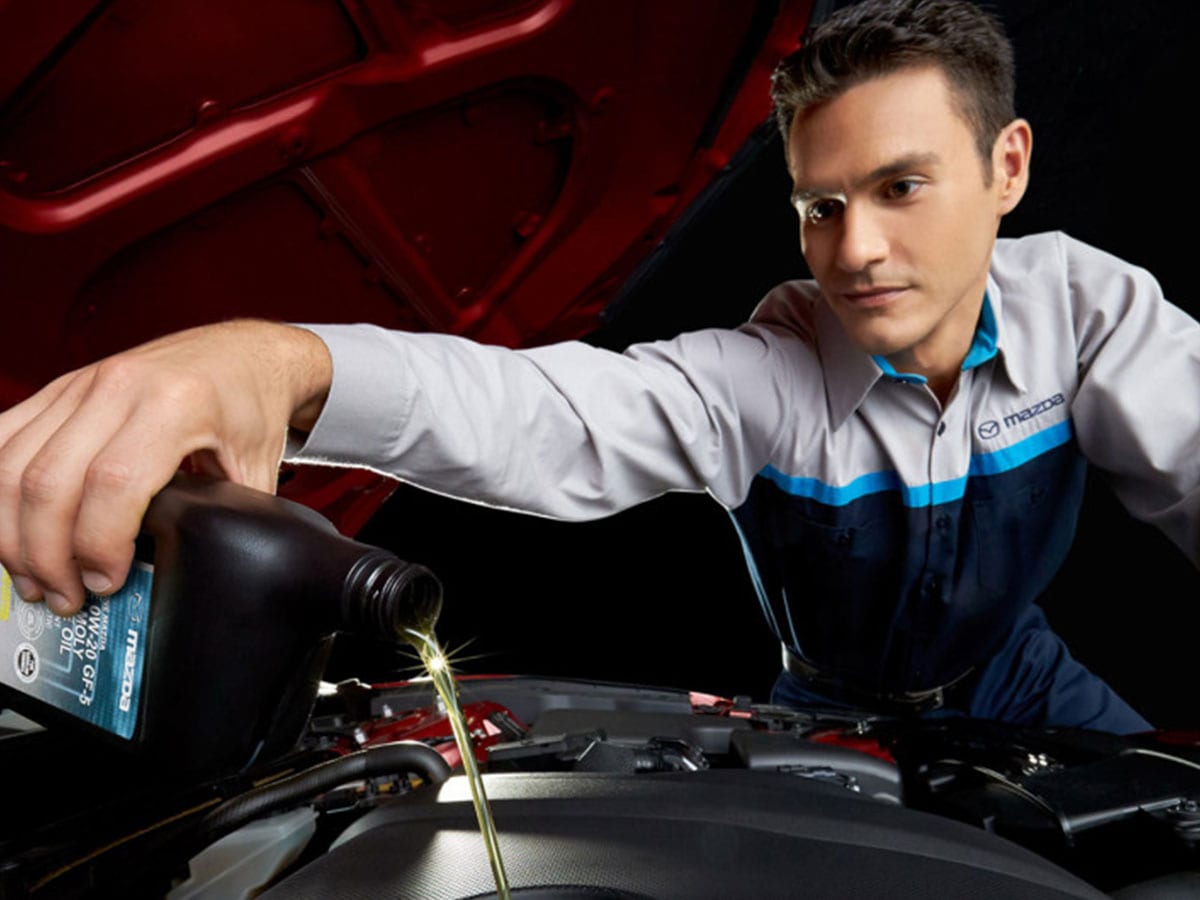 Oil Changes at Hiley Mazda in Burleson, TX
Having the oil changed on its recommended schedule is an important maintenance task that will keep your Mazda operating efficiently. This is because the oil serves to clean and lubricate the engine. When the oil is changed, the oil filter should also be changed. Vehicle maintenance can be time-consuming in a busy world. We get it. That's why we created the Express Service Center at Hiley Mazda of Burleson. Come into the Service Center in Burleson, TX and we'll have you back on the road in no time.
General Overview of Oil Change Types
Advancements in the field of motor oil technology in recent years have led to the creation of new products. This includes synthetic and semi-synthetic motor oils. It is not advisable to use these new products for every vehicle, though. Older vehicles still require conventional motor oil that needs to be changed every three months or 3,000 miles. Using synthetic or semi-synthetic oils in a vehicle not designed for them can cause engine damage. Our highly trained technicians will know which type of oil Mazda recommends for your vehicle's model and year. 
Motor Oil and Your Engine
When a car is driven, contaminants, such as dirt, can get into the motor oil. Eventually, this causes the oil to lose viscosity and break down lowering performance. With synthetic oil, you may only need to have it changed every 5,000 to 10,000 miles. The same is true for blends or semi-synthetic motor oils. Semi-synthetic oils combine the qualities of traditional oils with synthetic. The best advice is to follow Mazda's guidelines in the owner's manual and refer to your technician.  
Important to Note About Oil Changes
When getting your oil changed, first and foremost, it is important to follow Mazda's guidelines for your vehicle. This means both the oil product type and the frequency. Neglecting oil changes will lower vehicle performance and fuel efficiency. Eventually, it will cause serious engine damage.    
Hiley Mazda of Burleson Express Service Center
Your oil change is even easy in the Express Service Center at Hiley Mazda of Burleson. Whether you are Arlington, TX or Burleson, TX, Hiley Mazda is close by. You don't even need an appointment. Just come in and our certified technicians will get the right products for your model and year. Have a snack or a coffee in our waiting room. Before you know it, you will be back into your day's tasks. Oil changes are important. Come in and experience the convenience and quality of an oil change at our Express Service Center!
For great deals and savings on your Mazda, check out our current Service Specials.
---
Dealer Wallet Service Marketing & Fixed Ops SEO by
Service Hours
Monday

7:00 AM - 6:00 PM

Tuesday

7:00 AM - 6:00 PM

Wednesday

7:00 AM - 6:00 PM

Thursday

7:00 AM - 6:00 PM

Friday

7:00 AM - 6:00 PM

Saturday

8:00AM - 5:00PM

Sunday

Closed